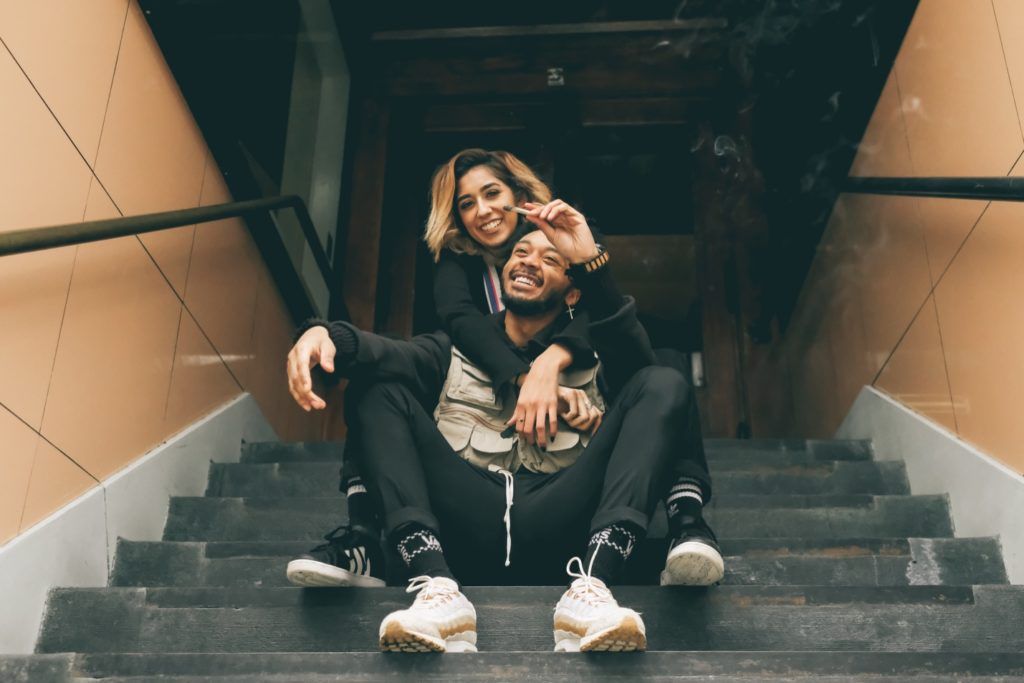 We should always show the people we care about how much we love them, but… sometimes life gets busy or stressful, and we slip. We get caught up in routines that numb us to the sparks we once felt. This is why it's crucial to carve out time to bond with our partners beyond turning on Netflix while scrolling on our phones.
Thankfully, Valentine's Day yanks us from our hum-drum routines and reminds us to add a little spice to life. So perhaps this year, instead of the stereotypical box of chocolates, gift your partner some edible chocolates and spend this Valentine's Day doing any of or all three activities below.
Complete a Project
We all have a never-ending list of things we'd like to try or projects we'd like to complete, but just don't have the time. Maybe you've wanted to paint your bedroom, rearrange your living room, or build a birdhouse. So why not take the day to complete the project with your partner? Indulge in a Majick Cookie and let your creativity shine.
Have fun coming up with ideas, help each other, and laugh at your mistakes. You'll both feel a sense of accomplishment when you're done and always view your project as something you achieved together. Plus, you'll likely work up an appetite in the process, and thanks to the cannabis, your snack will taste even better than usual.
Play Truth of Dare
Who didn't love Truth or Dare in childhood? It's exciting to see what questions are asked or what silly task you're dared to do. Not only does it get the blood pumping, but it's a fantastic way to learn about someone.
We know you likely already know your partner pretty well, but maybe you want to know what happened during the embarrassing event they swore they'd never reveal. Getting stoned while playing will help you think of fun questions to make you both fall over laughing. Though, of course, dares are the best. You could dare them to dance to a song of your choosing in their underwear or pour hot sauce on some ice cream and dare them to eat it.
This is a great option regardless of how long you've been with your partner. If your relationship is new, it gives you the freedom to ask them anything you've been too embarrassed or hesitant about. We're constantly changing and growing, and we must remember that our partner is too. Who knows, perhaps you'll learn something new about them!
Explore Somewhere New
There's nothing like an adventure to creating strong ties to the people we're on them with, and all adventures are made more fun when you're stoned. You don't have to have a magical quest or a destination in a faraway land either.
You can have an adventure right here in Portland by checking out a new restaurant or area of town. Ride public transportation for the day from one side of the city to the other and get off anywhere you've never been along the way.
Of course, you can venture out of the city too. Why not go on a road trip to the Redwoods or the Oregon Coast. Who knows what will arise during it. Pull over at a local diner when you get the munchies, and don't forget the pie. Have we mentioned how delicious pie is while high? A road trip for the best pie would be an excellent adventure. Regardless of where you go, allow yourself to let go of your daily stresses and allow yourself some fun.
Final Thoughts
We all know that Valentine's Day can feel like a tacky holiday that's been tainted by the mainstream. As soon as New Year's is over, and sometimes even before, most stores look like Cupid threw up red and pink everywhere. But to us, Valentine's Day is more than a commercial holiday. It's a day to spend quality time with our partners, celebrate our love, and have a little fun together.
Be sure to stop by our cannabis dispensary, Greeley Gallery, any day of the week between 7am and 10pm to pick up your chocolate edibles for Valentine's Day. We have an assortment of delicious high quality and locally made cannabis products that are sure to add some spice to your valentine's celebrations.
Written by Katrina Paulson